One Starting Point for Justice
February 1, 2020
The Rev. Mike Wernick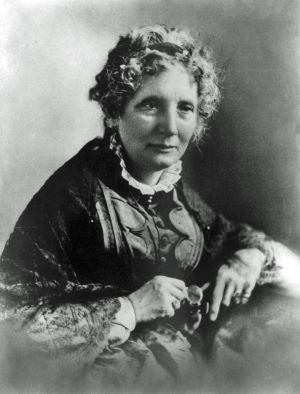 Harriet Beecher Stowe was an American abolitionist and author. She is best known for her 1852 novel Uncle Tom's Cabin (or Life Among the Lowly). It's an anti-slavery novel which depicts the harsh conditions for enslaved African Americans. The novel had a profound effect on attitudes toward African Americans and slavery in the U.S. and is said to have "helped lay the groundwork for the Civil War." In the first year after it was published, 300,000 copies of the book were sold in the United States and one million copies in Great Britain. The impact attributed to the book is reinforced by a story that when Abraham Lincoln met her at the start of the Civil War, Lincoln declared, "So this is the little lady who started this great war."
Harriet was born in Connecticut, and received part of her education at the Hartford Female Seminary (a girl's school founded by her older sister Catherine, which taught a traditional academic education, usually reserved for males at the time), and she later taught there herself.
Her novel featured the character of Uncle Tom, a long-suffering black slave around whom the stories of other characters revolve. The sentimental novel depicts the reality of slavery, while also asserting that Christian love can overcome something as destructive as enslavement of fellow human beings.
I couldn't find the year it was made, but I remember watching (several times) a silent black-and-white movie of the book (I think with an added melodramatic piano soundtrack), and being transfixed as Little Eva dies and as Eliza tries to escape slavery with her son, across ice floes on the Ohio River.
Harriet married into the Stowe family, a famous political, religious, and abolitionist family. Her father-in-law and virtually all seven of her brothers-in-law were ministers. In fact, sometime around 2005, Joel and I bought a Bible commentary from 1868 written by Professor Calvin E. Stowe, and the book's title is: Stowe on the Bible: The Origin and History of the Books of the Bible, both the Canonical and the Apocryphal, Designed to Show What the Bible is Not, What it Is, and How to Use It.
For as long as we've had it, we believed the book was written by one of her brothers-in-law; but just discovered (as I was writing this article), that Calvin was Harriet's husband and literary agent.
February is Black History Month. The precursor to Black History Month was created in 1926 in the United States, when historian Carter G. Woodson and the Association for the Study of Negro Life and History, announced the second week of February to be "Negro History Week." This week was chosen because it coincided with the February 12th birthday of Abraham Lincoln, and the February 14th birthday of Frederick Douglass, both of which black communities had celebrated together since the late 19th century. And in the wake of recent upsurges of racist speech and behavior, the need to celebrate the contributions of African Americans from all walks of life continues.
It's difficult to know precisely, all the causes of racism. So much of it, I think, comes from family of origin upbringings: from the things that parents (or other family members) do or say, the monologues directed at TV sets, the roll of the eyes; though of course there can be exceptions. It can be based in some kind of fear or trauma. It can be based in some kind of scarcity thinking (there's not enough to go around and I've got to protect mine). It can be based in one bad experience one time with one person and extrapolating that others will do the same thing –– which is ludicrous.
So some time during the month, watch a show about the history of blacks in this country, listen to a radio program, read an article, have a conversation. You don't need to fix racism; but listening is a good first step. Being heard is a good first step. But we need to look too at the conditions which still contribute to systemic racism. The CORR (Congregations Organizing for Racial Reconciliation) healing racism training which has recently been offered through the diocese, explores the role of history in creating the race construct we have today, delves into the various ways that racism manifests itself in our lives, and provides a strong foundation for the continuation of our anti-racism journey. It goes seamlessly along with striving for justice and peace for all people and respecting the DIGNITY of EVERY human being. It is that to which we are called.
Mike+