DIAPER DEPOT
Diapers are expensive, and can NOT be purchased with Bridge cards ("Food Stamps"). One in three families in Kent County struggle to provide enough diapers for their little ones. Begun in October 2012 by Ascension Lutheran, The Diaper Depot pantry supplies low-income families of children age 3 & under with a package of diapers for each eligible child, each month, free of charge. In 2022 we served about 250 families with more than 38,000 diapers! But not everyone comes every month – only when their budgets are stretched too thin. We help an average of 175 children each month, and since we began this ministry, we've helped more than 3,000 children! Though we are now in our 11th year of operation, the need remains great! The Depot is open twice each month, staffed entirely by volunteers, and operates entirely through donations & fundraising. If you know someone who might benefit from this ministry, click HERE to see the Diaper Depot distribution dates and times, as well as what paperwork is needed.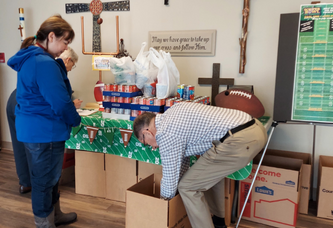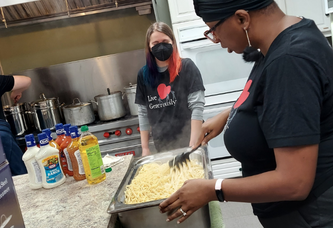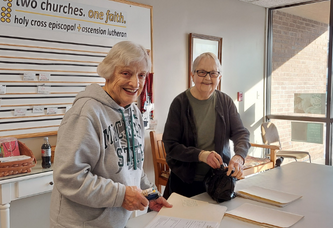 FEEDING MINISTRIES
Many of our ministries focus on helping alleviate food insecurity. Each month we collect food and personal care items, which are then blessed and delivered to The Green Apple food pantry, located at 4307 Kalamazoo Ave SE. Each fall, we hold a Spaghetti Dinner fundraiser for the pantry – 2020 would have been the 16th annual dinner, but due to the pandemic, we held a "virtual" dinner & fundraiser, and then simply asked for special donations in 2021. But we had a great time in-person for our 2022 dinner, and 2023's has already been scheduled! For 2019, The Green Apple estimated our food donations at a little over 4500 lbs., with an impact in excess of $10,000! We also have a monthly "noisy" loose change offering which goes to ACCESS of West Michigan, a faith-based organization working to provide solutions to the complex issues of poverty. Church members also regularly participate in ACCESS' annual Walk for Good Food.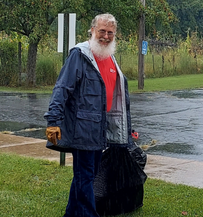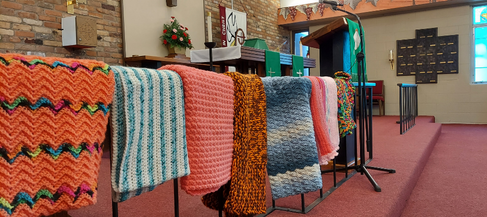 OTHER MINISTRIES
There are so many needs, and so many opportunities for us to be God's hands in the community. Just a few of the things we do here at Two Churches: annual "Share-a-Christmas" and "Be a Santa to a Senior" gift/food collections; an annual soup collection for "Souper Bowl of Caring"; Two Churches Thank Offering donations to Lutheran Disaster Response & Episcopal Relief & Development; volunteers staff St. Mark's Breakfast Café downtown each month that has a "Fifth Sunday", feeding those in need; members participate in "Warm Up America" knitting/crocheting afghans to give to local children entering the foster care system; garden space (and water) are donated for use by a group of local Bhutanese refugees; trash clean-up on our street; preparing and serving meals for un-housed families temporarily staying at Grace Church through the Interfaith Hospitality Network, a program of Family Promise of Grand Rapids.