That All May be One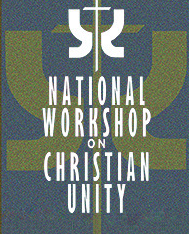 During the first week of April, I attended (for the first time) the National Workshop on Christian Unity (held this year in St. Louis). For over 50 years, the mission of the workshop has been to celebrate the spirit of unity that exists among Christians and search for ways to overcome the divisions that remain, by providing seminars for all who are concerned with Christian unity.
I attended as the Ecumenical and Interreligious Officer representing both the Episcopal Diocese of Western Michigan and the Episcopal Diocese of Eastern Michigan. I went with a sense of hopefulness because I reject denominational tribalism: the "we're right, you're wrong" thinking that pervades some congregations and some parts of Christendom, and given expression by minister Michael Kinnamon when he said: "Denominations are wonderful adjectives, but idolatrous nouns." But I also went with some trepidation, because as a gay man and priest (who is married to my partner), I have encountered my share of cultural and theological homophobia.
In my role as EIO, I have also attended LARC (Lutherans, Anglicans, and Roman Catholic) Conferences for several years. At LARC, each denomination takes yearly turns selecting the conference's speaker and theme, and leads worship on the middle (longest) day. The first year I attended, just several months after the SCOTUS decision regarding marriage equality, the Roman Catholic speaker asserted that "marriage was being assaulted from the very depths of Hell." Three years later, a distributed Roman Catholic brochure on ecumenical dialogue concluded: "With a focus on two case studies concerning migration / immigration and same sex relations, the document concludes that even if Anglicans lack a clear authoritative voice on moral questions, the way they approach these issues shares important common features with ours." And so I wondered whether and to what degree my experience at LARC would be reflected in my experience at the NWCU. It was not.
Conference participants, whose focus was more on what unites us than on what divides us, came from the UCC, the UMC, the PCUSA, the ELCA, TEC, the RCA, the Roman Church, and the Moravian Church, among others. There were more opportunities for worship than usual, and it was contemplative worship led by Br. Emile from the Taizé Community (in the contemplative tradition, God is understood to transcend all the distinctions and categories and labels that we humans impose on God). And workshop sessions were centered around themes of welcome, care of creation, spiritual dialogue, and building the beloved community.
There was even one conversation led by a United Methodist Bishop and a Roman Catholic Archbishop who have forged a deep friendship in spite of the social justice issues to which our minds race. And I must believe that this is due in part to an approach which rejects broad brush strokes, in favor of subtlety and nuance, and which must recognize that what was theologically formative / normal for one, was not expected to be / become normative for the other. In other words, neither one conveyed a sense of moral superiority.
There was, however, an update by leaders of the United Methodist Church about the Special Session of General Conference, held February 23-26, 2019 (also in St. Louis). This special session was called to vote on three submitted plans related to human sexuality: the Traditionalist Plan, which would broaden the definition of "self-avowed, practicing homosexual," put penalties in place for disobedience to the Book of Discipline, and require bishops, pastors and annual conferences to certify adherence to the Book of Discipline; the One Church Plan, which would remove restrictive language from the Book of Discipline that prohibits same-gender weddings in UMC properties and ordination of "self-avowed, practicing homosexuals," and would add language to protect churches and pastors who choose not to allow same-gender marriages; and the Connectional Conference Plan, which would replace the current jurisdictional conferences with three connectional conferences based on affinity –– Progressive, Traditional, and Unity. All three would use a general Book of Discipline but be able to adapt other portions to their context for ministry.
Due in large part to The United Methodist Church's more conservative global perspective, the Traditionalist Plan passed by a vote of 438 to 384. This means that the UMC's current statements about homosexuality, same-gender marriage, and the ordination of LGBTQ persons –– as outlined in the Book of Discipline –– have not fundamentally changed.
But even before the Special Session of General Conference closed, a motion was passed to seek a decision from the Judicial Council on the constitutionality of the Traditionalist Plan's legislative petitions. Several weeks later, the Judicial Council met (from April 23-25) in Evanston, Illinois, and upheld the Traditionalist Plan.
At this writing, The Episcopal Church is in full-communion with The Evangelical Lutheran Church in America, The Moravian Church – Northern and Southern Provinces, The Mar Thoma Syrian Church of Malabar, India, Old Catholic Churches of the Union of Utrecht, The Philippine Independent Church, and The Church of Sweden.
And more than fifty years ago, General Convention approved full-communion dialogue with the United Methodist Church. In 2002 The Episcopal Church – United Methodist Dialogue Committee was formed, and in 2017, the committee released a full communion proposal: A Gift to the World: Co-Laborers in the Healing of Brokenness. This proposal would need to be affirmed at the 2020 General Conference of The United Methodist Church and at the 2021 General Convention of The Episcopal Church in order to become canon law. For us Episcopalians though, February's Special Session vote and the Judicial Council's support of that vote may seem to put this proposed full-communion agreement into jeopardy.
But meeting from April 29-30 in Austin, Texas, the joint Episcopal – United Methodist Dialogue Committee said that they have decided to continue on this path toward full communion. "We do not make this decision naively and are fully cognizant of the hard realities our churches face. We feel the pain and inexpressible weight of discrimination that is the burden of LGBTQ Christians whose lives are so often objectified, debated, or dismissed. We acknowledge that the decisions of the 2019 Special Session of UMC have deepened divisions. And yet, we believe that what we are experiencing in the various crises of our denominational life is the birth pangs of something remarkable, something new. We desire as a dialogue committee to take the next faithful step in this journey, trusting in the God who alone holds the future and who may yet be calling us to something bigger and grander than we have imagined."
The Rev. William Fleener said: "Look around at creation, and if you can, if you're able, show me evidence that God favors uniformity." This calling us to something bigger, to boundlessness, to being One, is what God always does. And it finds expression –– and imagination –– in Psalm 118:5: "I called out to God from my narrowness, and God answered me with a vast expanse."
I'll take the vast expanse, thank you.
The Rev. Mike Wernick